The mission of "Silent Speakers" is to eliminate barriers between you and truly realistic sound. The concept of "Silence" is based on the premise that speakers can make sounds that are not on the recording. These sounds include all forms of distortion; irregularities in frequency response as well as resonances created within the speaker and acoustic distortions in the radiation of sound from the cabinet. When all of these sounds are eliminated, the presence of the speaker disappears.
The Direct Acoustics Silent II Speaker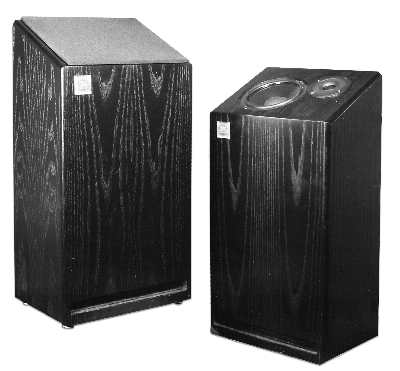 As featured in Stereophile magazine in July 2011.
Bass Enhancement
The complex internal cabinet chambers extract the bass frequencies from the low frequency driver and feed them out through a slot in the bottom of the cabinet. Low frequency performance is greatly extended with minimum turbulence.
Woofer
For deep bass, the woofer is designed with a long voice coil and a soft suspension. It is relatively small in diameter, in order to provide good dispersion at the crossover frequency to the tweeter.
Grille
The grille is shaped precisely in order to become part of the baffling of the drivers.
Crossover
The crossover divides low frequencies from high frequencies with steep attenuation and complimentary slopes, in order to provide a seamless transition between the drivers.
Room Acoustics
"Silent Speakers" are designed for specific room placement, for example, against a wall and sitting on the floor. Drive units are on a slanting baffle, facing up, in order to help avoid creating standing waves and room acoustics.
Tweeter
The tweeter is of the soft dome style. It uses a European design and includes magnetic cooling fluid for the voice coil.
Cabinet
The cabinet is constructed of heavy non-porous wooden material commonly called "MDF". It is internally braced to prevent vibration or internal resonances.
Drivers
The low and high frequency units are designed to compliment each other and the cabinet. They produce wide frequency response without resonances or distortion in a uniform three dimensional pattern.